5 Smart Ways to Splurge on Your Home Upgrades

Think about Scale: A Big Part of Successful Decorating
Photo: © Gaf_Lila - Shutterstock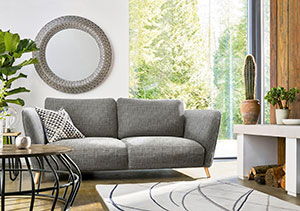 Of course, you want your remodeling projects to pay off when you sell. But some luxuries just make your home life sweeter and easier — and there's big value in that, too.
Here are some remodeling splurges that are great for your life now and someday may pique a buyer's interest.
1. Steam Shower
What: A sealed shower attached to a steam generator that turns the stall into a steam room. You can build a steam shower from scratch or buy a prefab fiberglass unit.

Why: Steam relaxes, opens sinuses, soothes muscles, and cleans pores. Installing a steam shower is a major project that includes wiring for the generator; vapor-proofing walls, floors, and ceiling; installing a tightly-fitting door; and having a bathroom fan outside the shower to suck up the extra humidity.

Tip: A sloped ceiling in the shower room ensures that condensation runs off.

How much: Starting around $2,600
2. Heated Bathroom Floors
What:
Thin, thermostatically-controlled electric radiant mats that install under tile.
Why:
No more cold feet when stepping out of the shower in the morning. Many systems come with timers so warm bathroom floors await you each morning.
Tip:
Heated floors help stem mold growth in humid places.
How much:
$6-$16/sq. ft. for materials or at least $870 installed (not counting cost of tile or adding 20-amp GFCI dedicated circuit starting at about $125)
3. Skylights

What:
Upscale models feature insulated glass, solar-powered shades, and rain sensors that'll automatically close an open skylight in bad weather.
Why:
Avoid dark, dreary room syndrome in areas you can't brighten with windows — hallways, interior rooms, even closets Skylights save you money on heating, cooling, and lighting bills.
Tip:
If you plan to open and close skylights, order screens to keep out bugs and roof debris.
How much:
$500-$3,500 (depending on size, glazing, and complexity) installed
4. Towel-Warming Drawer
What:
A stainless steel, heated drawer that slips into cabinetry, plugs into an outlet, and warms towels.
Why:
Because there's nothing more snuggly than wrapping a warm towel around you after a bath or shower.
Tip:
Towels take time to heat up — some people say as much as 45 minutes — so you'll have to plan ahead to have a toasty one ready when you are.
How much:
$1,250-$2,600
5. Central Vac (aka Whole-House Vacuum)
What:
A super-suction, built-in vacuum system that features convenient inlet ports throughout the house where you plug in 25-to-50-foot lightweight vacuum hoses. The collection bin is usually located in a basement or garage.
Why:
No more dragging heavy vacuum cleaners up and down stairs and throughout the house. With central vacs all you need to schlepp is a lightweight hose fitted with a power brush.
Central vacs have up to five times the suction power of portable vacuums, and they store dust far away from where it's collected — great for allergy sufferers. Some high-tech systems have retractable hoses that disappear into the wall.
Tip:
Make sure you have enough ports — at least one for every 500 sq. ft.
How much:
$1,200-$3,000 to retrofit a house; add about $150 for retractable hose.
Lisa Kaplan Gordon is an avid gardener, a member of the Fairfax County Master Gardeners Association, and a builder of luxury homes in McLean, Va. She's been a Homes editor for Gannett News Service and has reviewed home improvement products for AOL.
Homeowners often make mistakes when shopping for art, curtains, and rugs, including buying items that are too small. Paying attention to scale in every aspect of a room—furniture, wall hangings, floor coverings—goes a long way toward creating an inviting, aesthetically pleasing home. Here are a few rules to help you style your walls, windows, and floors:

Use Art to Make a Statement
Do you buy art, struggle to decide where to hang it, and then wonder why it doesn't look right? The problem may be scale. It's best to determine the size needed for a wall hanging before you buy one. When in doubt, bigger is generally better than smaller.

Grouping several small art pieces together has the same effect. One rule of thumb says art—or, a gallery grouping—should cover two-thirds to three-fourths of the available wall space, not including any furniture or shelving from your measurement of that space. A large, blank wall doesn't need a huge piece of art to follow this rule, though. Simply place a potted tree, lamp, or shelves next to the wall to narrow your space enough for the art you want to use. Over a couch, allow 6–12 inches of clearance to the bottom edge of the art.

Another common error is to hang art too high, but this rule of thumb is easy to follow: art should be hung at eye level, depending on whether one is sitting or standing to view it.

Rugs Should Define a Seating Area
Think of an area rug as furniture rather than as an accessory that floats in the middle of a room. Keep in mind that most living rooms need a rug that is at least six feet by nine feet to comfortably fill the floor space. This is one item that you shouldn't skimp on size to save a buck. If you can't afford a large rug, try layering two rugs. Place a quality patterned rug over a larger neutral woven rug, like sisal.

Ideally, the edges of an area rug should skirt about one foot from the perimeter of the room. Or, use an area rug to define a seating area. Either way, some of the furniture should at least overlap the rug edges. In dining areas, however, area rugs should be large enough so that chairs remain on the rug when they are pulled out.

Use Curtains to Make Your Windows Look Larger
Don't buy curtains that are too short. Designers will tell you that hanging your curtain rods near the ceiling and letting the curtain hem touch or drape on the floor will make a room's ceiling appear higher. Hang it at least half the distance from the top of the window or higher.

Also, mounting your curtain rods so the curtains extend beyond the edges of the windows will make your windows look wider. The rod's width should clear 6–10 inches on both sides of the window's frame, if possible, allowing a clear view through the window when the curtains are open.